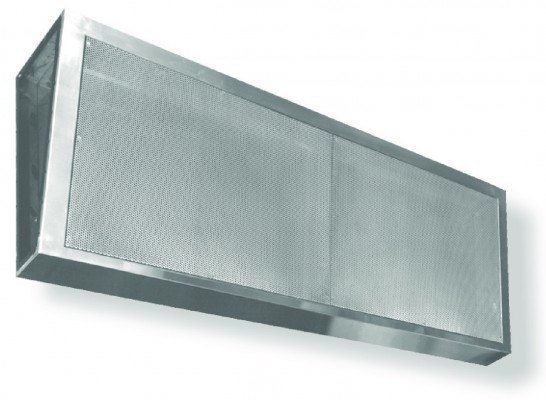 BIOMODULO BAT
Modular filter unit with single-direction transversal flow
Descrizione
Modular filter units with single-direction transversal flow for hospital applications, especially for operating theaters, whose height does not allow to use modular units in the counter ceilings. It can house air tight absolute filters for laminar flow series MINILAM. The use of LF14-LF15 allows to reach an air purity quality class ISO 4/5 according to the rule ISO 14644-1. The fixing of filter elements is done through assembled mounting brackets with Allen screws. Micro-perforated in pickled and satin stainless steel AISI 304. Fixing through not projecting face screws. Air passage 40% (open area).
Lateral, back or upper air entry.
It is possible to connect more units by removing the lateral panels. Pressure drop connection to check the pressure drop of filter elements, upon request.
Special executions
BAT/LD: with lateral right opening (environment view)
BAT/LS: with lateral left opening (environment view)
BAT/LDS : with lateral opening left and right
BAT/P : with back rectangular inlet
BAT/S: with upper rectangular inlet